LAURINBURG — More than 200 members of the Scotland County community came together to give back on Friday.
"Small towns breed leaders," said Carol Nichols, co-chair of United Way of Scotland County. "All of you here today are leaders."
The annual United Way of Scotland County Day of Caring saw hundreds of volunteers serve the community. They tackled the chores like building sheds, planting trees, landscaping and even socializing with the animals of the Scotland County Humane Society.
The volunteers met at 8 a.m. at the Laurinburg Presbyterian Church Fellowship Hall to fuel up on breakfast, award the Highlander Awards, and share the mission of United Way.
Before the volunteers departed from breakfast, Janet Smith, United Way of Scotland County so-chair, explained the non-profits annual campaign of raising $265,000 to distribute among 19 agencies in Scotland County. "The money you donate is projected to reach 20 out of 3 people in Scotland County," Smith said.
"It is always great to give back to the community," said Laurinburg Police Chief Darwin Williams. He along with the police depart helped in planting trees at the Old Hillside Cemetery.
With the help of volunteers from the police department, Scotland County Sheriff's office, St. Andrews University, and many others, 180 trees were planted at the cemetery in a little under an hour, according to Conor Moloney, an assistant men's soccer coach at SAU.
"When we arrived at the site where we would be helping out, we were blown away by how many trees there was to plant, 180 was the rumor," Moloney said. "We took instruction and went right to work, before I could think, we were half way done."
The planting took about 45 minutes.
"It was amazing to see how powerful a group of high spirited individuals can come together to be," he said. "More days like this and more acts like this will continue to allow the area we live in to be a better place."
Volunteers also helped Habitat for Humanity build three sheds on Friday. A group of 30 volunteers started cutting the wood for the shed around 9 a.m. and by noon, there were three hand-made sheds ready for a home.
"Normally we have three teams work on building a Habitat Home, but the woman who was supposed to receive the home passed away," said Debbie Grant, director of United Way of Scotland County. "So instead our three teams — Campbell's Soup, Smithfield Foods and Scotland Healthcare — will be building the storage sheds. It's turned into sort of an athletic event, they are all so competitive."
For the St. Andrews University women's volleyball team, and other volunteers with a soft spot for animals, the Scotland County Humane Society put them to work washing kennels, raking leaves, socializing cats and playing with dogs.
The volunteers met at 8 a.m. at the Laurinburg First Presbyterian Church to fuel up on breakfast, award the highlander awards, and share the mission of United Way.
"Volunteering is something we are losing — we need to offer more volunteering opportunities to young people, so they can get the volunteer bug and give up their time to help others," said Clifton Dial, housing director at St. Andrews University.
Friday was also the Scotland County Chamber of Commerce Beautification Day which named this year's winners of the Highlander Award, given to members of the community that make Scotland County a beautiful place.
The 2016 Highlander Award winners were Margaret Hogan of Gibson; Gail and Gary Chavis of East Laurinburg; Steve and Amy Burch of Wagram; Bill and Pam Hill of Laurinburg; Jim and Lynn Mason of Laurinburg; and Debbie and Ken Norris of Laurel Hill.
McDougald Funeral Home was the commercial winner; FCC of North Carolina was the industrial winner; St. Johns United Methodist Church was the nonprofit winner; and Laurel Hill Elementary was the school winner.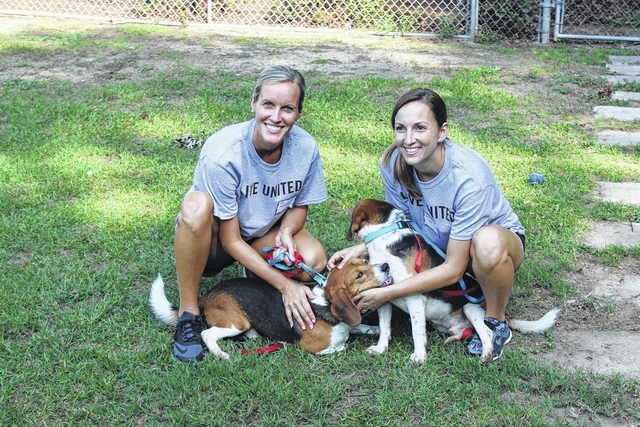 St. Andrews University volleyball coaches Holly Mandeville and Katie Lovett, volunteer their time at the Scotland County Humane Society.
Reach Nolan Gilmour at 910-506-3171
comments powered by

Disqus