LAURINBURG —This past weekend marked graduation day for students at several area universities, including St. Andrews and the University of North Carolina at Pembroke.
St. Andrews University saw 129 students receive diplomas at the 119th commencement ceremony lakeside on the DeTamble Library Terrace.
The graduates along with faculty and the executive committee were led in a processional by the St. Andrews Pipe Band from the residential side of campus to the academic side crossing Lake Ansley Moore.
When asked about his experience at St. Andrews, Dashon Eure, a biology major from Suffolk, VA. said "Just because the path is not straight, does not mean it's not right."
Commencement speaker Walker Morris, CEO of Walker Morris- CEO of the Clinton Foundation's Development Initiative, told students to respond to your calling.
"After being born, raised and educated, living my entire life within the state of North Carolina and having a fulfilling and successful business and personal life running radio stations 30 miles up the road in Southern Pines," Morris said. "I did at age 56 move with my wife Kate to the small, land-locked country of Malawi in sub saharan Africa."
Morris urged graduates to give two hours a week to a local boys and girls club, as a tutor in a local school, or as a volunteer in your local church.
"That will add a valuable and fulfilling piece to the mosaic that is your life in full," he said." "Share yourself freely, your talents and your gifts. Find your own version of Malawi in your own communities."
Morris said students should also try to listen to people who are different.
"More than listen, hear them, and learn from them and apply those skills," he said. "Be empathetic. It's much healthier and important to be a caring person. Don't waste your valuable time being cynical or aloof."
Also on Saturday, graduate, and senior class speaker, Stuart Mashall, received the Algernon Sydney Sullivan Award.
The Sullivan Award is sponsored by the New York Southern Society for the purpose of recognizing the spiritual qualities of the recipients as reflected in their selfless gift of their time and energy in the service of others.
"We honor Stuart with the Sullivan Award, not only for his academic accomplishments but more importantly because of the many ways he leads his life in service to others," said SAU President Paul Baldasare.
UNCP
Also awarded were 720 graduate and undergraduate degrees during the 2016 Spring Commencement ceremonies at UNCP on Friday and Saturday.
More than 5,000 parents and friends gathered under a cool blue sky on the south quad lawn to witness the students "transform" into graduates.
"You now have a valuable tool and you have power and control over your future," Chancellor Robin Gary Cummings told the graduates. "Don't you dare waste it!"
"I hope that we have stoked your curiosity about the world around you, expanded your horizons and emboldened you with knowledge and skills that you need to make a difference," Dr. Cummings said.
The university awarded 581 undergraduate degrees on Saturday and 139 graduate degrees during a ceremony at Givens Performing Arts Center on Friday.
Tammy Locklear of Pembroke, said she plans to continue making a difference in the lives of her patients at Southeastern Health, where she works as a respiratory therapist. Locklear and her sister-in-law, Frannie Jacobs, both earned degrees in biology. They both plan to apply to a Physician Assistant program.
"I had always wanted to be a physician assistant," Locklear said. "So, after 15 years of working and raising four children, I decided to come back to school."
"I wanted to advance in my career because I wanted to help the community more and enjoy working with my patients and helping others," Locklear said.
Commencement speaker Dr. Sally McRorie advised the graduates to not get complacent.
"Keep moving," McRorie repeated during her 20-minute talk. McRorie, a 1976 graduate of UNC Pembroke, is the provost and executive vice president for Academic Affairs at Florida State University. Her tenure at FSU spans 21 years.
"You have all earned the right to live fulfilled, creative, purposeful lives because you have practiced in the Emersonian manner, through mindful action," McRorie said. "You have met the requirements that needed to be done to complete your degree, and you know that you face the mindful actions required by the commencement of the next stages of your life."
"Your path forward is and will be transformed, even if you don't know when or how," she said. "All you have to do is focus your mind and heart in a truly mindful way. Keep your eyes open and keep moving!"
Kimberly Hunt of Greensboro proudly displayed two Eagle feathers on her cap which featured hand-made bead work. Hunt earned a degree in political science and plans to attend law school with the ultimate goal of becoming an American Indian rights leader.
Dr. Steven Bourquin served as grand marshal. Bourquin is the 2016 recipient of the UNC Board of Governors Award for Teaching Excellence. Bourquin serves as chair of the Math and Computer Science Department. He joined the UNCP faculty in 2003.
For most, the commencement exercise was a joyous occasion, but for the Paul family, the ceremony was bitter sweet. Eighteen-year-old Charles Paul crossed the stage and proudly accepted a diploma on behalf of his sister, Doris, who was killed in a car accident in April 2015.
Doris Paul was a junior studying biology. She was 21.
"I could feel her up there (on stage) with me," Charles Paul said. "This was truly a special day for all of us."
Jeffery Paul struggled to hold back tears as he spoke about the three years his daughter spent at UNCP.
"Our daughter loved UNCP and we know that had she lived she would have been one great alumni," Jeffrey Paul said. "We are honored that the university did this for us today."
Courtesy photo Kimberly Hunt of Greensborodisplayed two Eagle feathers on her cap which featured hand-made bead work. Hunt earned a degree in political science.
Courtesy photo Biology major Kaelin Packer of Prescott, Arizona, uses motorboard art to express herself at Saturday's graduation ceremony at St. Andrews University. The motorboard said, "Finally finished with this BS."
Courtesy photo More than 5,000 people gathered on the south quad lawn Saturday to witness 581 undergraduate degrees awarded to students at The University of North Carolina at Pembroke.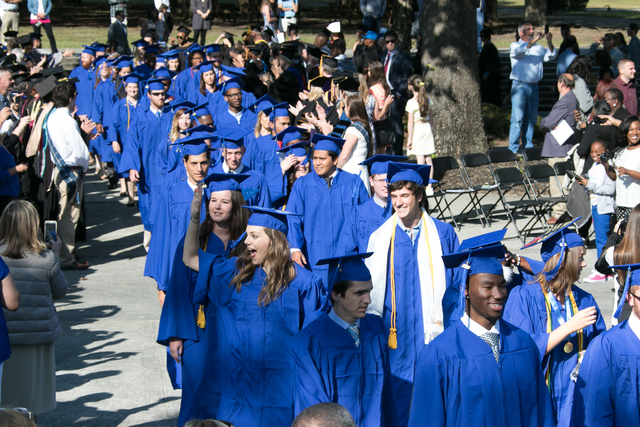 Courtesy photo The graduates along with faculty and the executive committee were led in a processional by the St. Andrews Pipe Band from the residential side of campus to the academic side crossing Lake Ansley Moore.
comments powered by

Disqus