LAURINBURG — The Physical Education building on the campus of St. Andrews University has been a busy place this week. The Knights basketball and wrestling programs hosted their summer fitness and conditioning camps — one on Harris Court and the Carl F. Ullrich Fitness Center and the other in the Knights Wrestling Room.
Second-year head basketball coach Randy Hernandez and his assistant coaches, Tim Rodgers and Darian Cahill, worked with campers, ages seven to 13, on strength training in the fitness center and agility on Harris Court.
The campers ran through obstacle courses to build up their endurance before playing a modified version of capture the flag.
Older campers, age 14 to 18, attended the camp in the afternoon where they focused on strength training with pull-ups, bench press and rope climbing along with more advanced basketball techniques.
Veteran Knights wrestling coach Joe Baranik worked with 13 campers, ages K-6, on a variety of conditioning and strength training games. The kids worked on upper body strength by "wheelbarrowing" each other the length of the wrestling mats. Baranik, who is over 50, then did a handstand for the campers to demonstrate the important of good balance. Campers then worked on their balance by attempting a handstand — which resulted in a few yelps and most kids toppling over onto the mats.
The two camps then came together for a best of five game of tug-a-war, before returning to their conditioning. Both camps wrap up today.
Amber Hatten can be reached at 910-506-3170.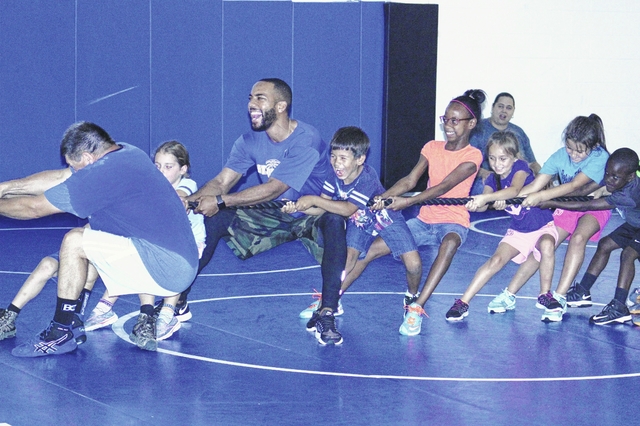 Campers and coaches from St. Andrews wrestling and basketball camps took a break from conditioning to play tug-a-war with each other on Tuesday. Knights wrestling coach Joe Baranik and Knights assistant basketball coach Darian Cahill got in on the action as well.
Knights wrestling coach Joe Baranik assists two campers at the Knights Wrestling and Fitness Camp, for kids in grades K-6, work on a flip-over move.
The Knights basketball team also held strength and conditioning for campers this week with head coach Randy Hernandez and his coaching staff.
Knights wrestling coach Joe Baranik demonstrates how to do a hand stand while explaining the importance of balance in wrestling.
Knights assistant basketball coach Tim Rodgers shows a camper how to bunny hop through part of an obstacle course during Tuesday's strength and conditioning camp for kids.
comments powered by

Disqus