LAURINBURG — Scotland High School seniors Timon McMillan and Mazani Stubbs will have one final opportunity to strap on their helmets and lace up their cleats before their high school careers conclude.
Both Scots were selected this week to play in the North Carolina East-West All-Star game set to take place this summer.
An annual event heading into its 68th year, the East-West game will take place July 20 at Robert B. Jamison Stadium in Greensboro. The contest, which is run by the North Carolina Coaches Association, features some of the top football talent from both sides of the state.
McMillan, an offensive lineman, and Stubbs, a defensive lineman, will represent the East team. The full rosters for both squads has not yet been publicly released, but the coaching staffs have been announced. The East team will be led by Fike's Tom Nelson, and the West will be coached by Hibriten's Clay Lewis.
McMillan was a three-time all-Southeastern Conference performer during his time with the Scots, and he is signed to play for The University of North Carolina at Pembroke next fall.
McMillan paved the way for SEC Offensive Player of the Year Zamir White, who rushed for a school-record 41 touchdowns last year. The 6-foot-1, 305-pound guard was named the team's best offensive lineman by head coach Richard Bailey at Scotland's fall sports banquet last month.
Stubbs was named to the all-SEC squad his junior and senior seasons — he racked up 59 tackles (14 for loss), five sacks and a fumble recovery in his first year as a starter and followed with 33 tackles (12 for loss), two sacks and a forced fumble during his senior campaign. Bailey named the 6-foot, 240-pounder as the Scots' best defensive lineman at season's end.
The first East-West game was played in 1949 and has featured hundreds of Division I players since. The game begins at 8 p.m., and there will be a fireworks show at halftime.
Logan Martinez can be reached at 910-506-3170. Follow him on Twitter @L_Martinez13.
Mazani Stubbs, middle, was an all-SEC defensive lineman for the Scots last season, recording 33 tackles and two sacks.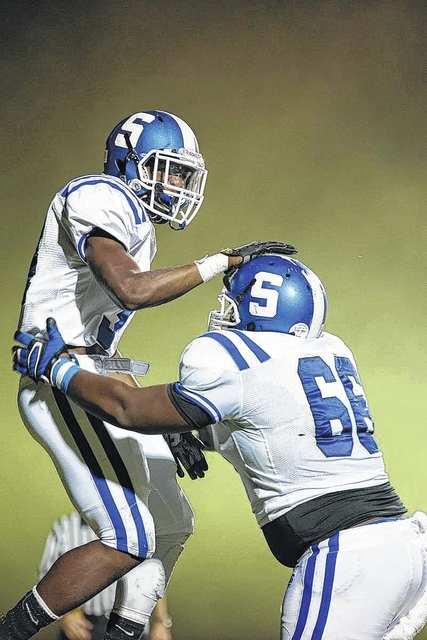 Timon McMillan celebrates with Zamir White after a touchdown in an October game. McMillan is a three-time all-SEC selection and will join Stubbs on the East team.
comments powered by

Disqus