Supreet receives Rane scholarship
LAURINBURG — Recent SEarCH graduate, Supreet Goraya has been selected as a Jimmy Rane Foundation Scholar.She excelled in the classroom graduatin...
---
New scholarship established at RCC
HAMLET – Former teacher Sandy Bryant established the Bobbie Sue Ormsby annual scholarship at Richmond Community College in honor of a fellow edu...
---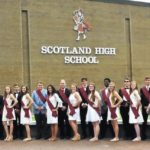 Junior Marshals
contributed photo |Scotland High School junior marshals will participate in graduation ceremonies today. Students that earned this honor all have at l...
---
contributed photo | Scotland High School Junior Marshals will serve as marshals during Baccalaureate and graduation ceremonies. The students chosen ha...
---
Former UNCP employee and alum, Illya Chavis Lindsey, remembered as a fighter
PEMBROKE – Sylvia Pate will always remember the first time she went to Walmart with Illya Chavis Lindsey."I didn't think we would ev...
---
Courtesy photo |Scotland County Schools Certified Nurses,from left, Debbie Mears, Angela Moore, Wendy Peele, Rebecca Winter, Nicole Monroe, Amanda McN...
---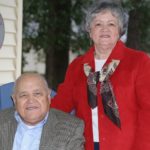 Alumni pledge $50,000 to UNCP
PEMBROKE — Waltz and Louise Maynor are highly regarded for their work in higher education, dedicating 35 years each to educating minds at North ...
---
Spring Hill students win video contest on drug abuse
RALEIGH — A group Laurinburg students were among the statewide winners of the fifth-annual Stop Rx Abuse video contest. For the past five years, ...
May 5th, 2016 updated: May 8th, 2016. |
---
Scotland High students see options during career day
LAURINBURG — Students at Scotland High School got the opportunity to consider different occupations during recent the second annual Career Day.V...
---
Spring Hill school recognized for STEM program
LAURINBURG — Spring Hill Middle School was recently recognized as one of only 24 programs worldwide at the annual conference of the Internationa...
---