Scotland County births
Recent births at Scotland Memorial Hospital:Williams girlKelly Renee Easterling announced the birth of her daughter Heaven Alayna Williams on April 10...
---
Mother of the Year
Scott Witten|Laurinburg ExchangeMae Blue, center, was recently named NAACP Mother of the Year for Scotland County. Blue, a member of Jones Chapel Miss...
---
140 olympians take part in Scotland County games
LAURINBURG — Scotland County Special Olympics honored the athletes as well as volunteers and supporters at the annual games this week at Scotlan...
---
Laurinburg Scout accedes to Eagle rank
LAURINBURG — Boy Scout Troop 420 promoted its latest Eagle Scout on April 10, elevating Brandon Michael White to the highest rank in scouting in...
---
Poet John McNeill's niece to present reading at BCC
DUBLIN — Mary Wayne Watson, the great-niece of Scotland County poet John Charles McNeill, will present a reading of the poetry of McNeill on Apr...
---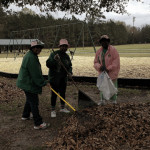 Park project
Courtesy photoRho Alpha Omega members of the local branch of Alpha Kappa Alpha Sorority Inc. met on Saturday to spruce up Washington park. The group h...
---
Turn of a century
LAURINBURG — Mildred McCall's big day finally arrived.The staff at Prestwick Village where McCall lives said she had been talking about li...
---
Fashion sense raises money for schools
LAURINBURG — Scotland County High School students recently showed off their Sunday best during the third annual fashion show.The event raises mo...
---
Your child's sweet tooth and dental health
During the month of February, the American Dental Association (ADA) celebrated National Children's Dental Health. It is important as parents, we...
---
Literacy Councils honors young educator memory
LAURINBURG – Justin Baldwin, a young educator in Scotland County, was remembered by the Scotland County Literacy Council, Monday, at the Sanford...
---