Time for Medicaid to be fixed
Should the federal government treat able-bodied adults better than the disabled or elderly?When President Lyndon B. Johnson first signed Medicaid into...
---
Enough with the tax cuts
Two weeks ago a group of state Senate leaders unveiled a plan to raise principal pay in North Carolina and raise funds for school construction in rura...
---
An alarm for the coming Day of the Lord
The second chapter of Joel begins with the prophet telling the watchmen on the walls to blow the trumpets and sound the alarm signaling the coming day...
---
Laurinburg-Maxton Airport ready to soar
Let me begin by reminding you of the history of Laurinburg-Maxton Airport. It was originally developed as an Army base and was the world's large...
---
Diane Rehm: Dealing with her husband's death
Diane Rehm's scheduled visit to Elon University on April 6 is reminding fans of her public radio program how much they miss her since her retire...
---
Unapologetic gratitude to Scotland educators
There are very few trades that one choose to take up where your main focus is to teach those who will succeed in life while you stand idle to train th...
---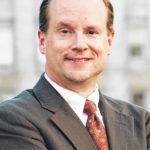 Cooper is in weaker position
Newly elected Democratic Gov. Roy Cooper gave his first State of the State address on March 13. The longtime leader of the North Carolina Senate, Phil...
---
Scotland Dems: Compromise no virtue in civil rights
Compromise is a virtue. That's a no-brainer, right? We'd probably all agree that without it Congress would never pass a law, marriages wou...
---
Closer care is better by far
My previous message from the Scotland Health Care System focused on the Safe, High Quality, and Compassionate Care we provide. This message focuses on...
---
Column: Scotland's school floor explained
A lot of people talk of the Scotland "School Floor". Few fully understand it.As mayor of Laurinburg, the city that is home to the high sch...
---