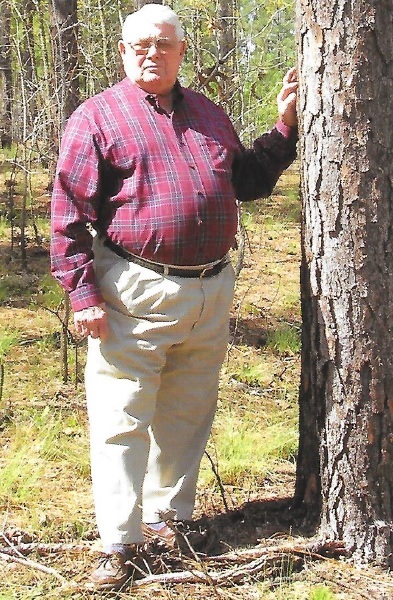 Sam Snowdon Jr.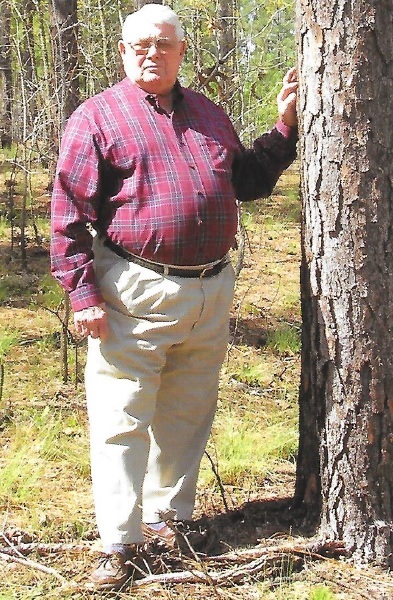 Snowdon, pictured in an article about caring for the longleaf pines in a 125-acre forest in Scotland County.
LAURINBURG — As an architect, Sam Snowdon, Jr. made a lasting impression on Scotland County with the design of many significant structures — and that was just his day job.
In the years of Snowdon's residence in Laurinburg, it is the rare community organization that was not on the receiving end of an even more indelible contribution.
Though his civic participation dwindled somewhat in his later years, Snowdon's membership in the Laurinburg-Scotland County Area Chamber of Commerce and Laurinburg Rotary Club, as well as his 23-year chairmanship of Scotland County Concerned Citizens for the Homeless, did not end until his death at the age of 88 on Sunday.
"Sam was constantly involved with something of importance over all the years that I knew him," said David Burns, who served with Snowdon on the Scotland County Board of Commissioners, Richmond Community College Board of Trustees, and Scotland Health Care System Board of Trustees.
"When we had a difficult situation, Sam Snowdon was the go-to man to work out the difficult details of what needed to be done. Being trained in architecture, he just had a good sense of ways to cut to the core of what the issue was."
Snowdon graduated from high school in Ware Shoals, South Carolina in 1943 and entered the U.S. Navy in 1944. He was stationed on Okinawa, riding out the end of World War II in the Pacific Theatre before his discharge in 1946.
He graduated from Clemson University with a degree in architecture four years later and went to work with J.N. Pease and Associates in Charlotte.
In 1957 a job offer came from W.E. Matthews Company in Laurinburg, and Snowdon, who himself had lived through a nomadic childhood, saw an opportunity for his children to grow up with a sense of community in his wife Mildred's hometown.
With his professional concern for the aesthetically pleasing, it was no surprise when he changed his last name from Snoddy four years later after a genealogist identified the name's origin as Snowdon.
Among his first forays into community service was leadership of Boy Scout Troop 420 at Laurinburg Presbyterian Church, nurturing in youth a love of the outdoors and guiding many young men to the Eagle rank.
An interest in nature and wildlife conservation would prove to be a theme for Snowdon, who became a charter member of the local Ducks Unlimited and Quail Unlimited chapters.
When the Rev. Harry Abernathy returned to the area in 2008, Snowdon was the first to appear in his doorstep, taking Abernathy and his wife on a tour of the gamelands, making note of endangered species' habitats and the native longleaf pine forests.
"When I was exhausted from unpacking boxes, Sam showed up at the door one afternoon, told me to get in the car, and took me to supper in Rockingham," Abernathy recalled. "He was a good neighbor in every sense of the word."
Buildings in the region bearing Snowdon's mark are too numerous to list, among them Laurinburg Presbyterian Church, the fellowship hall of Maxton's First Presbyterian Church, Laurinburg's post office, the Purcell Clinic, and the Scotland County Courthouse — which was originally designed in 1964 by W.E. Matthews and was remodeled in 1991 by Snowdon and Associates.
"He's left some permanent marks in physical buildings in Scotland County," said Bill Purcell, a retired Laurinburg physician and former state senator. "He was honest, he was a decent guy you could depend on and trust and just one of the nicest people you'd ever meet.
"It is a big loss for this community — he is a guy that will be missed that everybody had respect for."
Snowdon served as chair of the N.C. Building Code Council from 1986-1996. In 1987, he served as president of the N.C. Chapter of the American Institute of Architects, an organization which later awarded him its Presidential Citation and William H. Deitrick Service Medal.
Other boards he served on — and many of which he chaired — over the years included the Scotia Village Board of Trustees, NC Council of Community Mental Health, Developmental Disabilities and Substance Abuse Programs, the Southeastern Regional Center for Mental Health, Developmental Disabilities and Substance Abuse Services Board of Directors, Hospice of Scotland County, and Barium Springs Home for Children.
"He was so very good at recruiting people to help and so good at matching people's strengths," said Kathy Lytch, executive director of Concerned Citizens for the Homeless. "He was so well connected that no one ever told him no if he asked."
A number of pivotal developments in Laurinburg were aided in large part by Snowdon, from raising funds for the demolition of the old hospital where RCC's Honeycutt Center now sits to planning the development and later expansions of Scotia Village.
"His true passion was to try to leave his surroundings better than he found them," Burns said. "He really wanted to improve the quality of life for all in Scotland County."
Mary Katherine Murphy can be reached at 910-506-3169.
comments powered by

Disqus