LAURINBURG — Jaquez Williams once thought he might become a marine biologist, if he could only stay out of trouble long enough to graduate from high school.
The intervention of the Scotland County Teen Court program, one of 19 organizations supported by the United Way of Scotland County's 2016 campaign, changed Williams' path on both counts.
On Thursday, United Way celebrated another year of raising money for nonprofit organizations that serve nearly every population sector and need in the county: Scotland County Senior Games, Scotland County 4-H and other youth organizations, public safety services like the Scotland County Firefighters Association, and organizations such as Church Community Services that help meet the basic needs of those living in poverty.
Williams, who now plans to pursue undergraduate studies at N.C. Central University in preparation for law school, described to the 80 people at Thursday's awards ceremony just how Teen Court changed his life.
"I made a bad decision and it got me into a lot of trouble," he said. "What kind of saved me at the time was my age — they directed me straight to Teen Court."
Once involved, Williams realized he had a natural affinity for courtroom proceedings. After completing his mandatory service as a juror, he felt a void on the program's usual meeting date on the third Tuesday of every month, so jumped back in to help defend fellow teens who had also gotten into hot water.
"I realized this is something I'd like to do: I like to be right, I like to argue with people, I like to talk," said Williams, who through the program has found a dream, an encouraging support system, and even an internship with a law firm.
"Teen Court helped me make a decision about what I want to do with my life as well as helping me not be in trouble anymore. Through Teen Court a lot of opportunities have been opened up to me."
Also on Thursday, United Way recognized the businesses and organizations that raised money for its 2016 campaign — which ultimately exceeded its $260,000 goal.
The Laurinburg-Scotland County Area Chamber of Commerce co-hosted the social awards event. The Chamber of Commerce's president, Chris English, said he regards United Way as the go-to channel when making a charitable donation in Scotland County.
"The contributions stay in the county … if you don't know what I'm talking about, look on the back of the program," English said, referring to the list of nonprofits that draw from United Way's funding pool.
Carol Nichols and Margaret Dickerson, who chaired the 2016 campaign, distributed President's Community Spirit Award plaques to the campaign's top contributors: Campbell's Soup with $70,2000 raised, Hanesbrand with $52,089 raised, Scotland Health Care System with $50,254 raised, Railroad Friction Products with $35,685 raised, and Service Thread, Z.V. Pate, BlueScope Buildings, and Scotland County with more than $10,000 each.
"United Way of Scotland County is committed to caring for the lives of our family members, our friends, our neighbors, and all of those in need in our county," Nichols said. "We fundraise to lighten the load of our community agencies so they can focus their time on offering their valuable resources and services."
Other awards presented on Thursday evening include:
Award of Excellence
— Scotland County 911 Emergency Communication Center
— Scotland County Tax Department
Outstanding Achievement
— I. Ellis Johnson Elementary School
— North Laurinburg Elementary School
— Laurel Hill Elementary School
100 Percent Participation
— Scotland Family Counseling Center
— Church Community Services
— Scots for Youth
— Scotland County 4-H
— Scotland County Humane Society Board of Directors
— Scotland County Domestic Violence and Rape Crisis Center Board of Directors
Award of Appreciation
— Scotland Health Care Syste
— Service Thread
— WLNC
— Nic's Pic Kwik
— The Laurinburg Exchange
— Haney's Tire
— Nyjel Graham
Community Impact Award
—Scotland County Schools
— Charles Craft
— WePack Logistics
— Pilkington
— Meritor
— Carolina Container
— City of Laurinburg
— St. Andrews University
— Wade S. Dunbar Insurance
— CommunityOne Bank
— Laurinburg Housing Authority
— FCC
United Way Service Award
— Jennifer Cole, United Way treasurer
Mary Katherine Murphy can be reached at … oh wait she can't. So long and thanks for all the fish.
United Way of Scotland County 2016 campaign co-chairs Margaret Dickerson, center, and Carol Nichols, right, caught up with St. Andrews University representative Liz Hernandex, left, on Thursday during United Way's annual awards ceremony.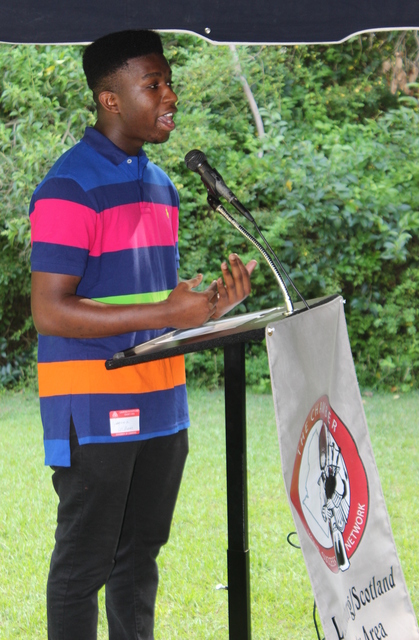 Jaquez Williams, a former client and current volunteer with Scotland County Teen Court, one of the 19 organizations supported by the United Way of Scotland County 2016 campaign, expressed his appreciation on Thursday during United Way's annual awards ceremony.
comments powered by

Disqus