LAURINBURG — With an inexhaustible supply of hot dogs, potato chips, and drinks, the Laurinburg Police Department served up a helping of community spirit on Saturday in the neighborhood around Duncan Smith and McIntosh apartments.
The department teamed up with Union Grove Missionary Baptist Church to offer its third community cookout on Melton Street, following events last year in Tara Village and Washington Park.
Woodrow McDonald, a Union Grove member and lifelong resident of Shaw Street, cooked hundreds of franks on a barbecue and commented on the need for community outreach.
"We're just trying to bring the community together and give our young kids something positive to do."
Many stuck around with their plates to catch up with friends and family members or partake in a game of basketball.
"I think it's real nice that the community can come together and show an example that we can all come together without it being a sad occasion," said neighborhood resident Sheila Blue, who brought her five grandchildren out for the afternoon. "It's really helpful and I appreciate them doing this for the kids."
The Rev. George Ellis, Union Grove's pastor, praised the police department's effort to present its officers as approachable.
"With all the negativity you hear about the police department and the way the community sees them is not always in a positive light," Ellis said. "But when you see them out here giving up their time and their Saturdays … it's a commendable job they're doing here."
Children and adults alike relaxed in the event's carefree atmosphere, returning for as many helpings of hot dogs as they could stomach.
"What I see right now is what the community needs to look like," he said. "There's nothing more gratifying than to go home and to know that you have touched a community like this."
Chief Darwin Williams said that he hopes the cookouts will foster a tradition of giving back in some of the city's most troubled neighborhoods.
"It takes very little to show love, and that is the purpose of this cookout: to show folks that we care," he said. "We care about their future, we care about them now.
"We all have an obligation and a responsibility to give back. To what degree, I don't know. Give what you can give and do your part to make the community better. We all can see Laurinburg be the place we want it to be if we all do our part."
Mary Katherine Murphy can be reached at 910-506-3169.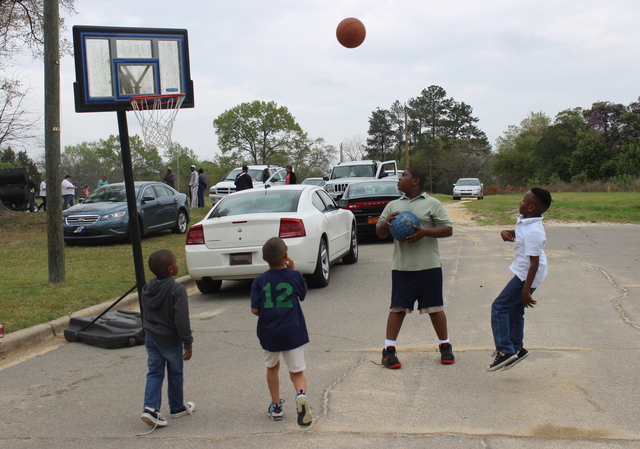 Woodrow McDonald, a lifelong resident of the area and member of Union Grove Missionary Baptist Church, grilled hot dogs for the residents of the Duncan Smith and McIntosh neighborhoods on Saturday in a cookout hosted by the Laurinburg Police Department.
Children living in the Duncan Smith and McIntosh neighborhoods played ball at a Saturday cookout organized by the Laurinburg Police Department and Union Grove Missionary Baptist Church.
A cookout on Melton Street hosted by the Laurinburg Police Department and Union Grove Missionary Baptist Church on Saturday offered hundreds all the hot dogs and potato chips they could eat.
comments powered by

Disqus