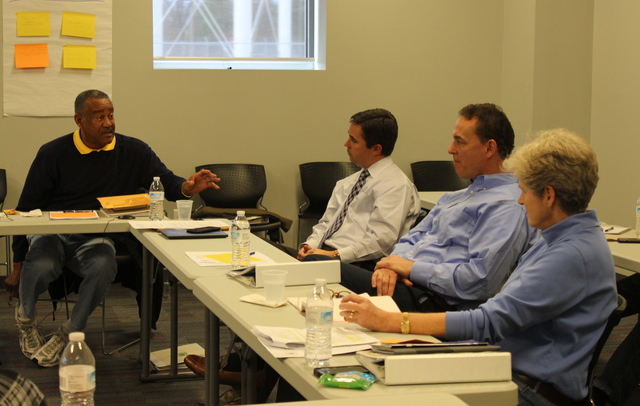 LAURINBURG — In its first meeting with Mayor Matthew Block since his election last year, the Laurinburg City Council spent more than three hours in retreat on Friday setting boundaries.
The meeting was guided by Peg Carlson, a faculty member at the UNC School of Government, and began with each council member, Block, and City Manager Charles Nichols individually identifying their expectations of each other. Council member Curtis Leak did not attend.
A point of contention arose when council members spurned Block's proposal of a policy restricting them from any mention of city business among themselves outside of meetings.
"It's not that you can't discuss it; it's that there's too much coming to the meetings with the three votes as if the issues have been discussed already," Block said.
Council member J.D. Willis said that council members' freedom to informally bounce ideas off of each other is useful for weeding out impractical proposals.
"I think whenever there is something on the table that is going to have an impact on the citizens of Laurinburg, then you and the council should know what's going on, but to say I cannot talk to one person about something — no," Willis said.
While agreeing with the new mayor's call for transparency, council member Drew Williamson agreed with Willis.
"I think we are conscious of it and need to remain conscious of it; I just happen to think it's overkill to say two people can't talk about city business at any time in a social setting," he said. "That's not to say that we shouldn't remain transparent."
Council member Dee Hammond said that council is shifting its discussions away from its agenda meetings, which are held the Tuesday prior to regular council meetings and are open to the public, to the regular televised meetings.
"There was too much information being shared in the agenda workshop, and we're trying to cut that down just to get the highlights," she said. "Somewhere along the line, they got long, detailed like a regular meeting, and action was being taken at an agenda meeting, which ended up being a special meeting, which are two different things to me."
As mayor, Block requested that council respect his role in running meetings and in working with the city manager to develop each month's agenda. Members of council agreed with Block that they should develop a policy for handling meeting participants who deviate from the rules of engagement.
In turn, council requested that Block remain mindful of his role as the city's spokesperson and maintain a positive tone when representing council.
Regarding the mayor's defined role, Block and the city council members found another difference of opinion.
"In other cities the mayor is fighting city council; the mayor of New York and the city council square off all the time," he said. "I don't see that the mayor is seen as the voice of city council. The mayor is supposed to express the unified view of city council but not necessarily adopt the same view."
On that point, Carlson jumped in to emphasize the distinction between local governance in large cities, which generally use a strong-mayor form of mayor-council government, and small North Carolina cities like Laurinburg, which operate under a council-manager form of government.
"That is a significant difference: the mayor does not go against the council or kind of battle the council the way that they do in a strong-mayor form of government," she said.
"So really, your role is to be presiding in meetings, be the traffic cop at meetings, help get in the citizen input, bring ideas from citizens, but not to speak up as a separate voice from the council."
The prospect of an adversarial dynamic between the mayor and the city council's voting members did not sit well with council member Mary Jo Adams.
"If it's acceptable for the council and the mayor to be fighting and at odds, that's just going to turn people off," she said. "We're trying to promote Laurinburg and trying to promote Scotland County and entice industry and growth. Who's going to want to come here if they see this bickering and infighting?"
The mayor and council also agreed to work as a unified whole, and that each member should avoid attempting to influence city staff on an individual level. They agreed with Nichols that input and information requests be directed to him alone, and that information requested by a single council member should be sent to all.
"The city manager works at the discretion of the mayor and city council, and the mayor and city council should not try to micromanage the city manager," said Willis. "I have heard of city managers in other places where the mayor tries to micromanage and then you've got the mayor talking to all different staff members and they don't know which way is up."
Other topics discussed included implementing measures by which the minutes for the city council's monthly agenda and regular meetings can be consistently prepared for council approval the following month.
Council members expressed concern about Block's ability to present in a positive light council decisions he opposes, but the mayor said he would strive to remain professional.
"I think that issue is at the crux of some of the tension that exists between us all, that we don't agree on certain things, and that's fine, that's the way it's going to be, that's healthy discussion," said Block. "I think we should all work together in a professional and respectful manner whether we agree or disagree."
Mary Katherine Murphy can be reached at 910-506-3169.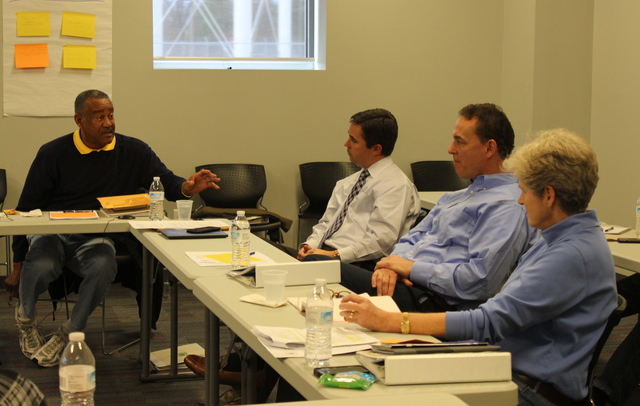 Mary Katherine Murphy | The Laurinburg Exchange J.D. Willis, left, drives home a point at the Laurinburg City Council's Friday retreat to discuss the roles and expectations of the council members, city manager and mayor.
comments powered by

Disqus