LAURINBURG — As Thanksgiving Day is traditionally set aside as a time for family, many in Scotland County have spent the first part of this week celebrating with those who, though not blood relatives, might as well be.
In its first Thanksgiving since becoming an elementary school, Sycamore Lane commemorated the holiday with a community feast on Tuesday evening. Sure to become a school tradition, he meal is an import from Pate-Gardner Elementary in Gibson, which along with Washington Park combined to form Sycamore Lane this year.
"We're trying to keep bits and pieces of both schools going," said Sycamore Lane principal Pam Lewis.
Hundreds, including students and their families along with neighbors, sat down to a tried-and-true ham and turkey dinner with all the fixings: stuffing, green beans, rolls, sweet potato casserole, and even cranberry sauce.
"That's when they cringe and go no," said teacher Tricia Eury, who stood at the end of the serving line to offer guests the gelatinous Thanksgiving staple. "I'm like, I'm just serving it, I don't eat it either. I never tried it; it just does not look appetizing."
An assortment of desserts was provided by St. John United Methodist Church in Gibson, which also supported the Pate-Gardner celebration. Other donations came from Franklin Chapel AME Zion Church in the Washington Park community.
"Someone invited me out because I had lost my wife and I don't cook that good," Jimmy Carmichael said with a smile. "It's so nice I'm going back for twice. It's good to have community at Thanksgiving start showing love."
The Scotland County Ministerial Alliance also celebrated Thanksgiving early with a midday service and lunch on Wednesday at Bright Hopewell Missionary Baptist Church. The service is a 15-year tradition for the ministerial alliance, which opens the service and ensuing meal to all.
"We normally have a community revival prior to Thanksgiving and on the Wednesday before Thanksgiving we have a service," said alliance president the Rev. Elizabeth Anderson. "We have a dinner and we take to all the sick and shut-ins in the community, we just come in and praise the Lord and have a good time."
Today also marks the 30th year that Delores Alston, a Wagram native, hosts a free Thanksgiving dinner for people — whether they are unable to afford or make their own holiday meal.
The dinner will be served from 12:30 to 5:00 p.m. at the Oak Hill Community Center at 30361 North Turnpike Road.
The menu includes roast turkey, ham with dressing, turnip greens, collard greens, okra, candied yams, field peas, cranberry sauce, pies, cakes and soda. All of the food will be out in chafer dishes in a buffet-style manner. The dinner will accommodate up to 500 people, and carry out plates are available after 3 p.m. There will also be fruit bags consisting of oranges, apples, pecans and two sticks of candy to take home after the event.
"I cook everything myself — I've already cooked eight turkeys," said Alston, who began preparing for the event in April. "It's a natural routine to start preparing for the event."
All of the vegetables are grown on the farmland near Alston's home. As she begins to pick them from April through November, she stores them in multiple freezers around the house. She also stores her ham, turkey and desserts until the night before Thanksgiving, when she pulls everything out and heats them up.
"My daddy used to say: feed the people if you don't do nothing else," she said.
Mary Katherine Murphy can be reached at 910-506-3169.
Tricia Eury, Sarah Eury, and Hazel Sutton-Childress served traditional Thanksgiving dishes at Sycamore Lane Elementary School's first community Thanksgiving on Tuesday.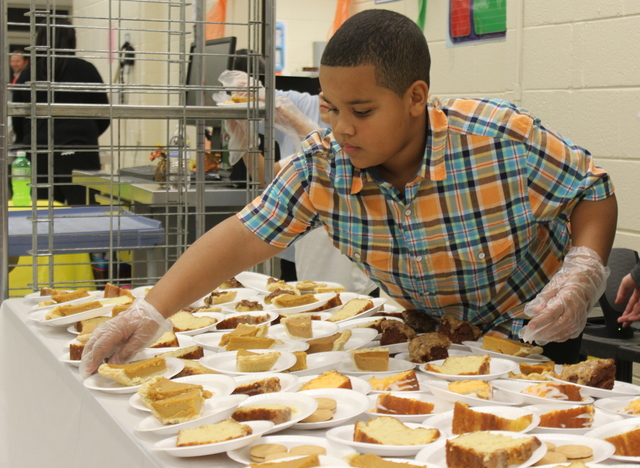 Sycamore Lane Elementary School fourth grader Henry Tolbert kept the dessert table well-stocked at the school's first community Thanksgiving on Tuesday.
While many took plates to go, some stayed to enjoy the communal aspect of the holday after a Scotland County Ministerial Alliance Thanksgiving service.
comments powered by

Disqus