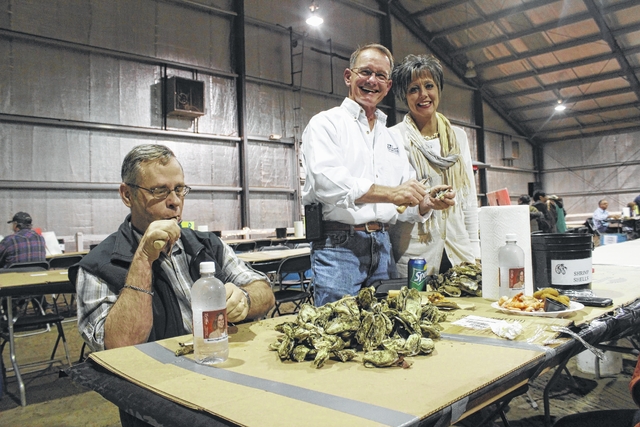 LAURINBURG — For the eighth year, Saturday's Laurinburg-Scotland County Area Chamber of Commerce's Chamber on the Half Shell oyster roast will provide hundreds with an all-you-can-eat seafood spectacular.
The oyster roast is presented by title sponsors BlueScope Buildings and Butler Manufacturing. A handful of tickets remained available on Wednesday, indicating to organizer Mary Sue Rabon that the event will sell out for another year.
"The first year there were about 200 people," she recalled. "Last year we printed 450 tickets and they were sold out prior to the event. This year we have printed 50 extra and it will be sold out by Saturday.
The event will be from 6-9 p.m. on Saturday at the St. Andrews University Equestrian Center, where more than 500 guests and volunteers will enjoy a night of friendship, fresh seafood, and questionable table manners under one of the university's covered riding arenas.
To feed the crowd, the Chamber has reserved 38 bushels of oysters, 200 pounds of shrimp. Those less fond of seafood can avail themselves of chicken wings, hush puppies, and cole slaw. Soft drinks will also be on offer, along with a cash bar for beer and wine.
Attendees will also leave the roast with a souvenir oyster knife.
"This time of the year is a great time: it's oyster season and it's a good time to network, friends and family come together and have time to spend catching up on different things," said Rabon.
Proceeds from the oyster roast benefit general Chamber programming. The event has historically drawn guests from Southern Pines and Raleigh as well as South Carolina and Virginia.
The evening's master of ceremonies will be Dave Wells of WLNC Radio, and the musical duo Gary Gallman and Jim McMillan will perform as "Now and Again."
A table raffle, with tickets at $1 each, will feature 15 items including a pearl necklace donated by Bob's Jewel Shop, pearl earrings donated by White's Jewelry and Repair, a Belk fragrance basket, and a baseball signed by Curt Britt.
The Chamber will also raffle off a $1,000 grand prize, and the winner need not be present on Saturday night. Tickets, at $5, are available at the Chamber office.
Tickets to Saturday's Chamber on the Half Shell Oyster Roast are $35 per person. Call the Chamber office for availability at 910-276-7420.
Mary Katherine Murphy can be reached at 910-506-3169.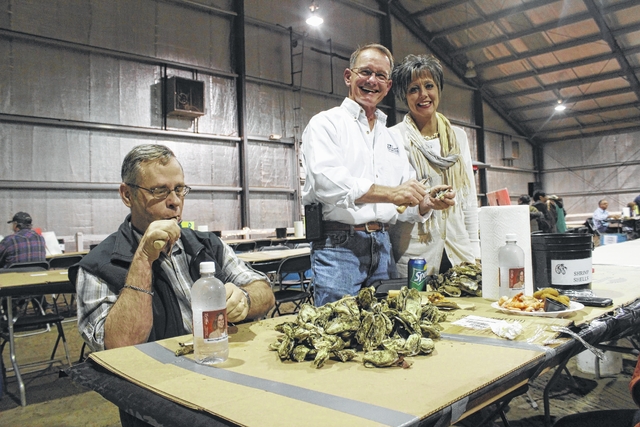 File photo From left, Bill Hart, Charlie Pittman and Sissy Pittman of Laurinburg shuck oysters and socialize at last year's Chamber on the Half Shell Oyster Roast, held at the St. Andrews University Equestrian Center by the Laurinburg/Scotland Chamber of Commerce.
comments powered by

Disqus