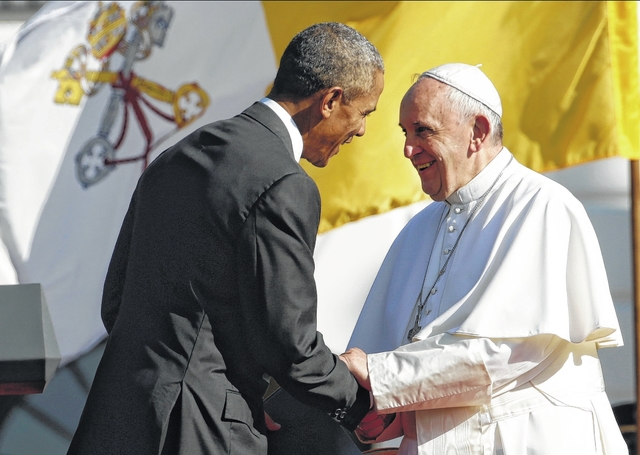 LAURINBURG — Since Pope Francis' arrival in the United States on Tuesday, the global leader of the Roman Catholic Church has held the eyes and ears of the faithful nationwide.
Though the itinerary for Francis' first papal visit includes stops in Washington, D.C., Philadelphia, and New York City, his message has resonated with Catholics, those of other Christian beliefs, and nontheists everywhere, including Scotland County.
"I think he has given a face to the papacy that is more open, accessible, and humble, and with an expressed desire to assist, aid, and defend those who are disenfranchised in society," said the Rev. Fr. JaVan Saxon of Laurinburg's St. Mary Catholic Church. "He has a real love of the poor and caring for them and reaching out to them.
"One word that expresses his whole pontificate would be the word mercy; he sees the church as a vessel of God's mercy to be lavished upon all humanity regardless of their race, color or creed."
Francis was elected pope in March 2013, after the resignation, unprecedented in the modern era, of his predecessor Pope Benedict XVI. Stepping into his role as the functional successor to Saint Peter, the native of Argentina became the first pope from outside of Europe in more than 1,200 years as well as the first whose papal name honors Saint Francis of Assisi.
Though not Catholic, Laurinburg resident Helen Hyman voiced affection for Pope Francis and his Christian message.
"I think he may make a difference, I really do," she said. "He's letting people know that there is such thing as Jesus and God, so I think it will wake some people up."
Hyman also admires the pope's use of his position to champion for the poor, whose cause has historically been close to the heart of the Catholic church.
"I think he's outspoken, honest, and true," she said. "I think all people of good will think the way he thinks: that injustice is not right, that looking down on other people who differ from you is not right, but they won't voice it for fear of backlash. I don't think he's fearful."
Francis' activities during his six-day visit to the United States will range from speaking to the United Nations General Assembly and presiding over Mass at Madison Square Garden to blessing meals for the homeless and visiting a Philadelphia correctional facility.
His message to a crowd of 11,000 on the White House lawn on Wednesday was one of few speeches Francis will deliver in English rather than his native Spanish. In it, he charged the United States with supporting "integral and inclusive models of development so that our brothers and sisters everywhere will know the economic models of prosperity that God wills to all his children."
Francis also alluded to the words of Martin Luther King, Jr. in stating that "we have defaulted on a promissory note, and now is the time to honor it."
In the past, the pope has specifically addressed climate change as an immediate issue in developing countries where natural resources dwindle, and he has spoken at length on the plight of Syrian refugees, charging each Catholic community in Europe with sponsoring a refugee family.
Laurel Hill resident Tom Parker found much to applaud in Francis' Wednesday address to the U.S. House of Representatives, in which the pope charged the United States with healing with world's open wounds.
"He's the first one really to speak out — I think he covered pretty much everything," said Parker. "We're selling our country short, I think that was part of his meaning."
Though Parker was concerned that the pope may critique the country's status as the richest in the world, he agreed that the cause of the poor is a worthy one.
"This town is full of so many underprivileged, mainly because of drugs and their parents, and that's a crime," he said.
While the pope is far from altering Catholic doctrine on matters such as homosexuality, divorce, and abortion, Saxon said that he strikes a balance between strict adherence to his faith and compassion toward people.
"The role of the pope and the role of all Christian religions is to be faithful to Jesus Christ and what he teaches and share his message with love and mercy and accept that not everybody is going to agree with you," he said.
"People see a pope who is truly a father figure, who loves the poor, the needy, the sick, the destitute and reaches out to them. He doesn't mind being hugged around the neck and kissed and embraced and showing that affection for people, especially for children, the sick, and the poor. People are attracted to that compassion and that sense of humility."
As a proponent of interfaith dialogue, Pope Francis' clear message to a U.S. fraught with partisan strife is well-timed.
"I think the significance is that the church and Christian faith has a voice that can speak to the world," Saxon said. "The reception he has received in this visit, the idea that he will speak to our Congress is an attribute of the recognition of our nation of the need for a moral center, a moral voice, a light to help guide us through difficult times and difficult days."
Mary Katherine Murphy can be reached at 910-506-3169.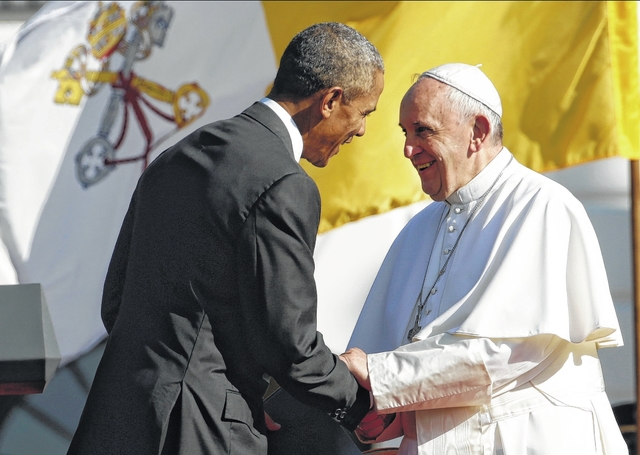 President Barack Obama shakes hands with Pope Francis after this welcoming speech during the state arrival ceremony on the South Lawn of the White House in Washington on Wednesday.
comments powered by

Disqus