LAURINBURG — With more than 40 volunteers signed up, the Habitat for Humanity of Scotland County home build kicking off today once again promises to be the most popular project in the United Way of Scotland County annual Day of Caring.
Day of Caring starts this morning with an 8 a.m. breakfast at the Laurinburg Presbyterian Church. Some 200 people are expected to gather both to prepare for a day of volunteer work at any of a dozen area nonprofits and to formally open United Way's new season of fundraising for the 19 charities it helps to support.
Habitat for Humanity dedicated the foundation of its latest home build — its 47th — on Thursday in preparation for a swarm of volunteers today. In the Day of Caring effort, dozens of people will descend upon the Sugar Road build site to construct walls and frame the 1,100 square foot, three-bedroom home.
The house will ultimately be owned by Lugretta Pate as a home for herself and her two children.
As the local Habitat organization approaches its 50th home, this build will mark a different milestone, as its construction will be funded by a $100,000 donation from the State Employee's Credit Union.
That donation, the largest in Habitat history, is part of a $10 million pledge by SECU to Habitat chapters statewide to fund the construction of a home in each of the state's 100 counties.
According to Habitat for Humanity of Scotland County director Susan Covington, Scotland County's chapter will receive another $100,000 to construct a home in Robeson County, which does not have a Habitat organization.
Each home takes about three months to complete. After today, the fall building schedule will begin in earnest on Sept. 16. Habitat will build from 8 a.m.-4 p.m. on Wednesdays, Thursdays, and Fridays through Oct. 23.
"We have a handful of maybe eight to 10 volunteers that come out for every house and are there most of the time," Covington said.
Anyone who would like to volunteer with Habitat's current build, whether for one day or two months, can call the office at 910-276-3337 or email [email protected]
Other Day of Caring projects include planting a fruit orchard in the Washington Park area, photographing adoptable pets for the Scotland County Humane Society, and organizing supplies for groups like Project Inasmuch, the Scotland County Literacy Council, and the Domestic Violence and Rape Crisis Center. More than 150 volunteers will participate in all of the day's projects.
Mary Katherine Murphy can be reached at 910-506-3169.
Reverend Sadie Bryant Lonax stands with new home owner Lugretta Pate before the prayer on Pate's new foundation.
Jim Hunt with the Self Help Credit Union stands next to home owner Lugretta Pate and Habitat for Humanity Executive Director Susan Covington.
New home owner Lugretta Pate stands with family and friends on the foundation of her new house built by Habitat for Humanity.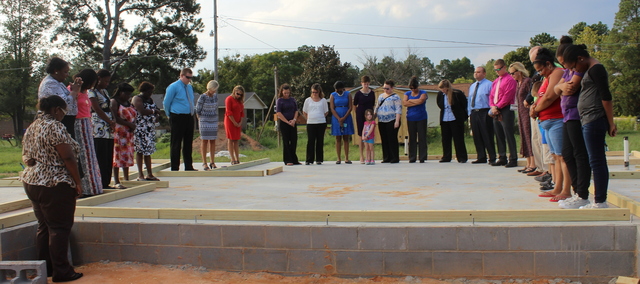 Reverend Sadie Bryant Lonax leads Lugretta Pate, Credit Union and Habitat for Humanity members in a prayer on Pate's new foundation,
comments powered by

Disqus