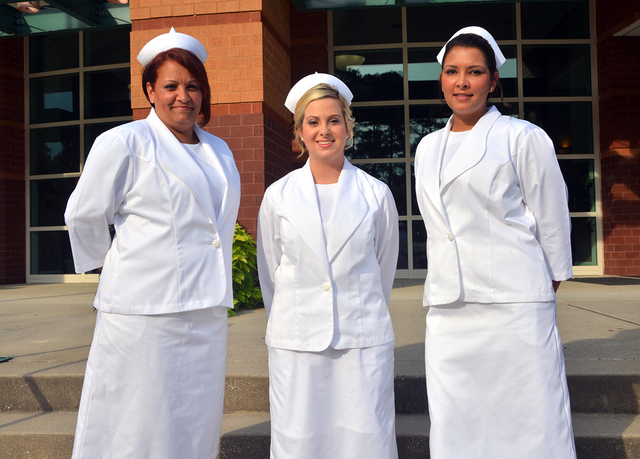 HAMLET — Ten graduates of the Practical Nursing program at Richmond Community College exited the Robert L. & Elizabeth S. Cole Auditorium on Tuesday.
The Practical Nursing pinning ceremony is the culmination of the yearlong program, which prepares graduates to take the National Council Licensure Examination in order to become a licensed practical nurse.
College president Dr. Dale McInnis thanked the family and friends who supported the students over the past year and then he acknowledged RCC's nursing staff for successfully producing another class of nurses.
"Congratulations and best of luck to all of our graduates as they move forward in this new career," McInnis said.
Registered nurse Donna Gibson was the guest speaker for the pinning ceremony.
"You have worked very hard for this day," Gibson said to the Class of 2015. "You have chosen to enter a wonderful profession. It will prove to be challenging at times, but it will be one of the most rewarding things you've ever done."
Gibson, who graduated from RCC's nursing program in 2002, advised the graduates to always treat their patients as they would like to be treated and to maintain compassion in all situations.
"This is a lifelong journey, and there will be bumps along the way," Gibson said. "Stay focused on delivering high quality, compassionate patient care and continue on your educational paths in nursing. Furthering your education will be extremely important in your nursing career."
Graduates were then presented nursing pins by the head nursing instructor Carole Gibson and nursing instructor Heather Cox. The graduates were also presented a long stem rose by nursing instructor Judith Thompson.
Then the class was led by Practical Nursing Class of 2015 Vice President Katie Baker in reciting the nurse's pledge. To close the ceremony, Practical Nursing Class of 2015 Treasurer Brandi Benfield gave the benediction.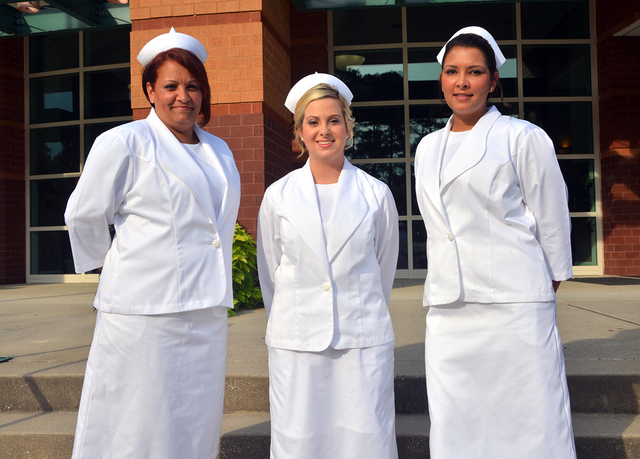 Pictured are members of Richmond Community College's Practical Nursing Class of 2015, from left, Katina Sammons of Maxton and Kristen Hucks and Jennifer Peele, both of Laurinburg.
comments powered by

Disqus