Scottish Pilots mix food, fashion
LAURINBURG – It's time again for the Scottish Pilot Club's annual spring bridge tournament and fashion show that pairs food, fun and...
---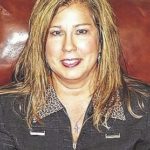 Maxton hires Metcon for water project
MAXTON — Town leaders approved the low bid for a water infrastructure improvement project following a closed session during which they considere...
---
Showcase features Scotland County talent
LAURINBURG — Performers of all ages gave Scotland County a first-hand look at the region's abundant talents.Everything from bluegrass, poe...
---
Resident: Laurburg art garden sculpture should go
LAURINBURG — They say art is in the eye of the beholder.To Mary Evans' eye, at least one work of "art" at the Laurinburg Art G...
---
Laurinburg council delays new meeting time
LAURINBURG — The Laurinburg City Council has decided to give a little more thought to changing its meeting time.Council voted this week to put t...
---
Scotland officials express concern with Mayor Block criticism
LAURINBURG — Laurinburg Mayor Matthew Block got an earful this week from a fellow council member who complained about the his habit of dissing p...
March 23rd, 2017 updated: March 23rd, 2017. |
---
Pendant donated for Scotland Hospice tourney
LAURINBURG — Bob's Jewel Shop has donated a piece of diamond jewelry for the 16th time to raise money for Scotland Regional Hospice.Hospic...
---
UPDATED: Scotland leaders fail to find new school site
LAURINBURG — A lack of consensus on where to put a new elementary school could alter the progress of consolidation, Scotland school officials sa...
March 23rd, 2017 updated: March 24th, 2017. |
---
Scotland County United Way director to step down
LAURINBURG — The executive director of United Way of Scotland County plans to step down next month to spend more time with her family.Debbie Gra...
March 23rd, 2017 updated: March 23rd, 2017. |
---
Rep. Ken Goodman appointed to committee
RALEIGH — North Carolina Speaker of the House of Representatives Tim Moore has appointed state Rep. Ken Goodman of Rockingham to the Council of ...
---