Scots tennis advances three to 4A regionals
RAEFORD — The Fighting Scots tennis team will be sending one singles player and one doubles team to the 4A East regional tournament next week af...
---
SAU softball falls in AAC consolation game
KINGSPORT, Tenn. — The St. Andrews University softball team fell 4-3 in their AAC consolation first-round tournament game to No. 5 Point Univers...
---
Scots baseball falters on Senior Night falls to Richmond
LAURINBURG — Rivalry games are a must-win for most teams whether it's for bragging rights or jump starting a team that's been strugg...
---
Senior bid adieu to the soccer pitch
LAURINBURG — It was a familiar position the Lady Scots found themselves in on Wednesday night — mercy ruled.Following their Senior Night f...
---
Softball struggles against Richmond on Senior Night
LAURINBURG — It was a tale of two teams for the Lady Scots on Wednesday.After scoring 20 runs in three games last weekend at the Gray's Cr...
---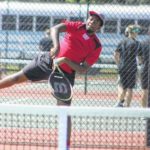 Doubles sweep first-round of SEC tournament
RAEFORD — The Fighting Scots doubles team went undefeated through the first round of the Southeastern conference tournament at Hoke on Wednesday...
---
St. Andrews men's golf clinches bid to nationals
ACWORTH, Ga. — The St. Andrews University men's golf team set a new school record as it clinched an automatic bid to Nationals. The Knight...
---
Smithfield donates to Knights Wrestling Academy
Courtesy photoCarol Pruitte of Smithfield Foods recently presented a check to St. Andrews University head wrestling coach Joe Baranik to the Knights W...
---
Rain causes multiple schedule changes
LAURINBURG — Monday's torrential downpours caused all Scotland High School athletic events to be cancelled and with no end in sight to the...
---
Lady Scots softball team goes 1-2 at Gray's Creek Bear Invitational
HOPE MILLS — The Lady Scots softball team wrapped its Spring Break with a trip to Hope Mills to compete in the two-day Gray's Creek Bear I...
---