NCHSAA changes playoff numbers for 4A schools
RALEIGH — The chances of advancing to the playoffs next season just got significantly more difficult.The North Carolina High School Athletic Ass...
---
Knights wrestling holds 10th annual golf fundraiser
WAGRAM — The St. Andrews University wrestling program held their 10th annual golf classic fundraiser last weekend at Deercroft Golf & Countr...
---
SEC tournaments come to a close
LAURINBURG — The Fighting Scots baseball will compete tonight in Southern Pines for the final Southeastern conference tournament championship. S...
---
Southeastern conference showdown
PEMBROKE — The Fighting Scots drove down I-74 to Pembroke looking for one thing — redemption.Purnell Swett stunned the undefeated Scots by...
---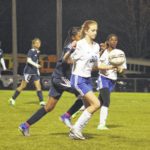 Lady Scots soccer hangs with Richmond
ROCKINGHAM — The Lady Scots soccer team played a much different game in their most recent meeting with Richmond in the first round of the Southe...
---
Scots go extra innings with Lumberton
LAURINBURG — It took nine innings, but the Fighting Scots baseball team found a way to live to play another day. Some risky, but strategic moves...
---
Softball falls to Pinecrest
SOUTHERN PINES — The top of the seventh inning saw Lady Scots first baseman Bree Steele down to her final strike against Pinecrest pitcher Jorda...
---
St. Andrews track teams finish 8th at AAC Championships
BLACK MOUNTAIN — The St. Andrews University men's and women's track and field teams both competed at the AAC Championships at Montre...
---
Scotland golfers end season at regionals
LAURINBURG — The two Fighting Scots golfers that advanced to the 4A East Regional tournament saw their seasons come to an end on Tuesday.Sophomo...
---
Scotland student-athletes selected for Hall Pass program
LAURINBURG — Eight student athletes from Scotland High School have been selected to participate in a new program by the North Carolina Sports Ha...
---