Vaughan's pin only victory for Knights
LAURINBURG — The St. Andrews University wrestling team ended the their match against rival UNC Pembroke with a crowd-pleasing bout as the school...
---
Oklahoma State remains No. 1 after win over Iowa
MANHEIM, PA. — Two of college wrestling's super powers collided on Sunday in Stillwater, Oklahoma. At the end of 10 bouts, No. 1 Oklahoma ...
---
Knights make history, down Milligan
MILLIGAN, Tenn. — The St. Andrews University men's basketball team held on to a second-half lead to edge out conference opponent Milligan ...
---
Scots fall in OT to Hoke
RAEFORD — A mid-court scramble for a loss ball appeared to be how Friday's game between the Fighting Scots and Hoke was going to end as th...
---
Scots finish 14th at Boneyard Bash
LAURINBURG — Several of the premier wrestling powers in the state convened at Jack Britt High School over the weekend or the 17th annual Boneyar...
---
Second-half surge comes up short
RAEFORD — After their first two Southeastern conference games, the Lady Scots are still searching for their first conference victory. The team s...
---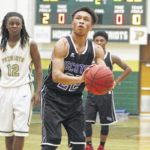 No love lost between Scots, Patriots
SOUTHERN PINES — The Fighting Scots opened Southeastern conference play in frustrating fashion on Wednesday against Pinecrest. Not only were the...
---
Lady Knights losing streak extends to four games
COLUMBIA, S.C. — The St. Andrews University women's basketball team dropped their fourth straight game of the new year to conference rival...
---
Scots split final home match
LAURINBURG — The Scots knew going into Wednesday's match with Lumberton that they were the underdogs — and for their first few match...
---
Scots grapple with conference foe
LAURINBURG — The Fighting Scots wrestling team enters the second half of their season on a win streak. The young grapplers have won five of thei...
---