---
Governor pardons Scotland man wrongly convicted of rape
LAURINBURG — A Scotland County man was pardoned by the governor on Thursday of rape and robbery charges that put him in prison for 27 years.Edwa...
---
Laurinburg After 5 postponed
LAURINBURG — Due to the probability of rain, the Laurinburg-Scotland County Area Chamber of Commerce will postpone the opening of the Laurinburg...
---
Laurinburg's Leonard Thompson reaches final hole
BIRMINGHAM, Ala. — Leonard Thompson has teed up the golf ball in a professional event 1,068 times during a 45-year-career, more than all but a coupl...
May 19th, 2016 updated: May 19th, 2016. |
---
Scotland school teachers, staff recognized
LAURINBURG — Scotland County school system educators and staff were recognized for their hard work Wednesday during the second annual Employees ...
---
Maxton to meet on schools
MAXTON — A meeting of those concerned about the proposed school consolidation plan for Robeson County's public schools will be held on Tue...
May 19th, 2016 updated: May 19th, 2016. |
---
Laurinburg hears variety of budget requests
LAURINBURG — The Laurinburg City Council fielded requests on Tuesday from a trio of nonprofits seeking funding for the 2016-2017.The Scotland Co...
---
---
Scots baseball places 4 on all-SEC squad
LAURINBURG — The Scotland baseball team enjoyed a stellar 2016 campaign under first-year skipper Chad Hill, and the Scots were rewarded for thei...
---
Pair of Scots named all-SEC
LAURINBURG — Coming off a five-win campaign in Abbi Giaier's first year as head coach, the Scotland girls soccer team placed a pair of upp...
---
St. Andrews women's basketball inks Union Pines' Ring
Samantha Ring, a senior from Union Pines High School, signed a basketball scholarship with St. Andrews University this week. Pictured from bottom left...
---
No upset bids in Rockingham Speedway sale
ROCKINGHAM — Billy Silas is now the owner of Rockingham Speedway.There were no upset bids following the credit bid of $3 million made by James H...
---
St. Andrews' Rosado, Ayer honored
KINGSPORT, Tenn. – Despite finishing outside of the top tier in the Appalachian Athletic Conference baseball standings, the St. Andrews Universi...
---
---
Poet John McNeill's niece to present reading at BCC
DUBLIN — Mary Wayne Watson, the great-niece of Scotland County poet John Charles McNeill, will present a reading of the poetry of McNeill on Apr...
---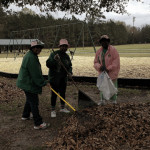 Park project
Courtesy photoRho Alpha Omega members of the local branch of Alpha Kappa Alpha Sorority Inc. met on Saturday to spruce up Washington park. The group h...
---
Turn of a century
LAURINBURG — Mildred McCall's big day finally arrived.The staff at Prestwick Village where McCall lives said she had been talking about li...
---
Fashion sense raises money for schools
LAURINBURG — Scotland County High School students recently showed off their Sunday best during the third annual fashion show.The event raises mo...
---
Your child's sweet tooth and dental health
During the month of February, the American Dental Association (ADA) celebrated National Children's Dental Health. It is important as parents, we...
---
---
Letter: Focus should be on prayer
To the editor: Article 1 of the Bill of Rights: Freedom of religion, speech, press, assembly and petition. The emphasis should be on prayer, not...
May 6th, 2016 updated: May 6th, 2016. |
---
Letter: Never too much prayer
To the editor:Recently in The Laurinburg Exchange, First United Methodist Church received an accusation of being a church that is being exclusive and ...
---
Our view: School plan looks to be reasonable
Scotland County school officials and members of the county commissioners met Thursday afternoon to talk about school consolidation. The two groups wil...
---
Letter: First UMC prayer not exclusive
To the editor:In reference to the letter of Mary Evans in the May 4, The Laurinburg Exchange, it is evident that Ms. Evans did not hear Pastor Jefferi...
---
Letter: Scotland teachers appreciated
To the editor:Annually, we set aside the first week of May to recognize our teachers during national Teacher Appreciation Week. Although I do believe ...
---