---
School officialslook long-termat warmth issue
LAURINBURG — The closing of one of Scotland County's elementary school's because of a problem with a heating system was a topic of d...
---
Locklear named county athletic supervisor
LAURINBURG — Scotland County Parks and Recreation has hired Edmund Locklear to serve as athletic supervisor.Locklear, a native of Lumberton, beg...
---
African choir to visit Wagram
WAGRAM – The Watoto Children's Choir, a performance group made up of Ugandan orphans, will share an original musical work at Nazareth Miss...
---
Scotland events to honor MLK
LAURINBURG – Scotland County will jump start its commemoration of the King Day with a host of events this week that will stretch into the offici...
---
Winter weathercools plans forannual bonfire
LAURINBURG —The possibility of inclement weather has postponed tonight's annual community Christmas tree burning at Legion Park.Laurinburg...
---
Beautician puts away clippers
LAURINBURG — Claudette Beane never thought the day would come when she put her clippers down for good.Even though her heart and spirit wanted to...
---
---
5:33 pm |
1:49 pm |
Scots fall in OT to Hoke
RAEFORD — A mid-court scramble for a loss ball appeared to be how Friday's game between the Fighting Scots and Hoke was going to end as th...
---
Scots finish 14th at Boneyard Bash
LAURINBURG — Several of the premier wrestling powers in the state convened at Jack Britt High School over the weekend or the 17th annual Boneyar...
---
Second-half surge comes up short
RAEFORD — After their first two Southeastern conference games, the Lady Scots are still searching for their first conference victory. The team s...
---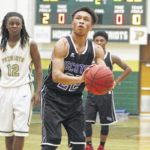 No love lost between Scots, Patriots
SOUTHERN PINES — The Fighting Scots opened Southeastern conference play in frustrating fashion on Wednesday against Pinecrest. Not only were the...
---
Lady Knights losing streak extends to four games
COLUMBIA, S.C. — The St. Andrews University women's basketball team dropped their fourth straight game of the new year to conference rival...
---
Scots split final home match
LAURINBURG — The Scots knew going into Wednesday's match with Lumberton that they were the underdogs — and for their first few match...
---
---
3:28 pm |
5:52 pm |
Faith Calendar
Printed submissions can be delivered to the Laurinburg Exchange office, emailed to [email protected], or faxed to 910-249-2500 by noon Wednesda...
---
Scotland awarded money for preservation
LAURINBURG — The N.C. Agricultural Development and Farmland Preservation Trust Fund recently awarded more than $3.87 million to help Scotland Co...
---
Sights from around the inaugural Team Festival
Michael McKeithan stands behind his Chevrolet Camaro at the Tema Festival car show on Atkinson Street Saturday.Jimmy McPatterson and his sister April ...
---
Blanden to hold peanut festival
DUBLIN — Bladen County will host a celebration for the peanut in the peanut capital of the South on Sept. 17 at Dublin Primary School.The festiv...
---
UNCP workshop focuses on quilts and bone creations
PEMBROKE — Seed jewelry making and soapstone carving, laced with stories of history and tradition, are just a sample of the creative treasure tr...
---
Cross – Flanagan Wedding
LAURINBURG — Kurt and Cindy Cross, of Laurinburg, are pleased to announce the engagement of their daughter, Brandi Nicole Cross to Devan Ross Fl...
---
---
11:07 am |
11:07 am |
11:06 am |
Our view:Conflicts of interest
This week's Laurinburg City Council retreat was a real treat for fans of reality television.There were expletives, snide comebacks and even repo...
---
Help for the job you want
The Help You Need For The Job You Want!As we all know, the primary catalyst for economic growth is jobs. NCWorks serves as a key connector between emp...
---
The subject of 'ethics in city government' is on the agenda for tonight's retreat. Council member Dee Hammond asked for it to be dis...
---
Heritage Center to promote county
Over the next week, you will start to see the finishing touches on a new, consolidated, tourism attraction in Scotland County. Over the past year, a g...
---
The end of the year is a time to reflect on the past year and to look forward to the new one. The city of Laurinburg had several noteworthy accomplish...
December 29th, 2016 updated: December 29th, 2016. |
---
Merry Christmas from my family to yours
LAURINBURG — Christmas is my favorite time of year because of all the family traditions I remember from my childhood – without one of thos...
---
SOCIAL MEDIA
---